Another Success Story for Hoops Express, Inc.
Branden Carl Gibson shakes the hand of George Frazier, Executive Director of Hoops Express Inc.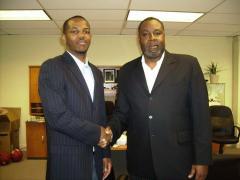 Newburgh – Born in Yonkers and moving to Newburgh as a child, Branden Carl Gibson is a Hoops Express Success Story. Branden attended Newburgh Free Academy and graduated in 2002. During his time there he played basketball, was mentored by George Frazier, Executive Director of Hoops Express Inc. Branden's attendance in the Hoops Express After School program and his association with Hoops Express Basketball inspired Branden to seriously pursue his interest in basketball. As a junior coach with Hoops Express, Branden was able to not only understand the game, but also hone his skills and ability as a player and coach.
Branden went on to graduate from Dominican College in Rockland County, (N.Y). While attending Dominican College, Branden participated in coaching basketball clinics and tournaments; through coaching Branden carried on what was given to him by his participation in Hoops Express. He mentored other youth who shared his interest and passion for the game of basketball. Also, during this time Branden completed his academic goal of graduating from college with a Bachelor of Science in the area of Social Science. At the same time, Branden further solidified his intentions of making basketball a career.
Branden is currently an Associate Basketball Coach at SUNY Purchase in charge of player development while cultivating player's skills and sportsmanship. Branden believes in hands on approach demanding accountability, hard work, responsibility and character development from his players. Branden attributes his work ethics from Hoops Express and his father Carl Gibson. Branden's future goal is to earn a Master Degree in Sports Management. By earning a Sports Management Graduate Degree, Branden is looking forward to coaching on a professional level upon his completion and experiences in the basketball community. Through Branden's future goals, he hopes to work in the game he loves while successfully representing others who have come through Hoops Express.
Copyright 2006-2011 The Hudson Valley Press. All rights reserved. This material may not be published, broadcast, rewritten, or redistributed.